Last updated on August 30th, 2021
Yamaha EF7200DE Review & Buyers Guide
Yamaha EF7200DE Review & Summary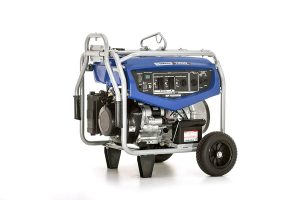 Product Name: Yamaha EF7200DE
Product Description: This is a heavy duty midsize capacity portable generator with 6000 watts running power. The design makes it suitable as an off-grid electricity source for power tools on a construction but it is also capable of powering the most important household appliances, such as the air conditioner, refrigerator and cooking stove, simultaneously.
Noise Level

Reliability

Value vs. Cost

Ease of Use
Summary
This is a reliable alternative power source for at home but the heavy duty design makes it just as suitable for use at a construction site. It has 6 power outlets, varying from 50 and 60 amps at 120 volts plus 25 and 30 amps at 240, so you can connect several power tools at the same time.
Overall, this is a versatile portable generator with 6000 running watts and 7200 watts surge power. It has enough capacity for both household use and work site purposes within a sturdy design.
Check Current Price
Yamaha is famous for their small inverter generators with an unique design but you can stick to this brand when you are looking for a more powerful portable generator. The EF7200de is a great choice to keep the essential home appliances running during a power cut.
The brand is known for their excellent engines and the MZ360 OHV used for this model is a good example. It is fuel efficient, durable and starts easily, especially with the electrical start.
But what are its other redeeming factors besides its trademark engine quality? Can this Japanese brand deliver a solid and user-friendly design at a much higher capacity than their signature model, the Yamaha EF2000is?
And how suitable is this model for heavy duty use? Does the frame offer enough protection and do the different design elements ensure a long lifespan with reduced noise?
Read on to find out more about the EF7200de.
This review is not based on any personal tests done on the machine but rather a comprehensive overview of the Yamaha EF2000isV2 derived from expert reviews, customer comments and the specifications provided by the manufacturer. Any conclusions drawn in this review are based on a comparison of these three different sources of information.
About the Yamaha EF7200DE
EF7200DE Specs & Usage Information
Yamaha EF7200DE: Technical Specs
| Product Information | Detail |
| --- | --- |
| Running Watts | 6,000 watts |
| Surge Wattage | 7,200 watts |
| Tank Size | 6.9 gallons |
| Run Time | 8 hours at full rated load |
| Fuel | Gasoline |
| Noise Level | 80 dB |
| Weight | 234 lbs |
With 7200 watts of surge power, you should have no problem starting any electrical home appliance and most power tools. 6000 watts of running power may not be enough to use this model as a whole house generator but it should cover the essentials when facing a power outage.
It has a reasonably large fuel tank of nearly 7 gallons so you would expect a long run time which Yamaha definitely delivers. At full capacity, the EF7200de has a run time of up to 8 hours and at a half load it can reach 12 hours.
Its fuel efficiency is especially useful for those that are looking for a generator suitable for extended use without having to stop and refuel. This can be especially useful on a construction site where time is of the essence or even in homes that need to keep freezers cold and electrical heaters running for as long as possible.
This is also a good choice when you are in need of a small capacity generator that you can keep running overnight. Since this model can last for 12 hours with a 3000 watts load, those with a smaller electricity demand will enjoy its long run time.
It is common sense that the bigger the capacity, the louder it gets so this model is incomparable to the extremely popular and quiet EF2000is in terms of noise level. On the other hand, 80 decibels is quite loud, even for a midsize engine, so you might wonder why Yamaha did not choose to add more sound reducing elements.
This is not a model that you would want to bring with you on a camping trip, it is too loud for that. Though the noise is less of a nuisance on a work site, the same cannot be said for your neighbors.
Think about the placement when you are using this device at home and also think about how the sound waves will travel around your neighborhood. It might be a good idea to build a noise canceling box in your backyard so that both you and your neighbors are less bothered by it.
Another aspect to consider is its portability because it is definitely not a lightweight device. However, Yamaha has incorporated several design elements that make up for the weight so that it is still relatively simple to maneuver it around.
Highly-Portable Design
Each product comes with tires and a folding handle so there is no need to spend extra on a wheel kit. It is a wishbone-shaped handle with a comfortable grip on each end so that you can pull it along with two people to spread out the weight.
The control panel is quite large and straightforward. It has 6 power outlets, an economic mode switch and a small LCD display showing the amount of volts and hours that it has been running.
Other details that help you monitor are the low-oil indicator light (which turns on before it shuts down automatically) and the fuel gauge. So, even though the control panel seems quite simple, it has all the basic information that you want.
Finally, consider how this device starts. You get the choice between an manual recoil system or an electrical push start thanks to the battery that is already included.
EF7200DE vs EF5200DE vs EF6300isDE
Yamaha has not released as many higher capacity generators on the US market so the comparable models are in the same range, just at a lower capacity. The comparable portable generators are the EF5200de and EF6300isde – The first is a portable generator with an electrical push start and the latter is a very powerful inverter generator.
The EF5200de is the most similar in design, also featuring a roll cage and steel frame. However, it does not come standard with tires and a pulling handle so it is a less portable design despite weighing less at 200 lbs.
The fuel tank is similar in size at 6.6 gallons which explains the similar expected run time of 8.3 hours on a full load. So, these two models are quite similar in these respects.
Other similarities are the electrical push start (battery not included), economy control system, oil watch warning system and cast iron cylinder lining to protect the engine and improve heat dissipation.
Where they do differ is the price range and maintenance costs. The EF7200de has a smaller price tag despite its greater capacity but the EF5200de will likely run you lower on maintenance costs.
This is because the smaller option has several design elements that make it easier for you to perform maintenance by yourself instead of having to call a professional. Examples are a washable foam air filter and easily accessible oil drain plug.
If you still have bigger power requirements, stick to the EF7200de. However, the EF6300isde comes quite close in terms of power plus it has all the added benefits of inverter technology.
You might still want to consider the inverter if you are looking for a generator for home use. It is safe for direct connections with sensitive electronics like laptops and mobile phones plus it runs a lot quieter than a conventional portable generator at only 58 – 62 decibels.
With 6300 watts surge power and 5500 watts running power, you should still be able to run most electrical household appliances on the smaller more compact alternative. However, you need to pay closer attention to which devices are running simultaneously because you don't want the EF6300isde to overload.
Also, the inverter is far more expensive than a conventional portable generator. If your budget allows it then it is definitely a good bet and smart investment but if you are not willing to spend that amount of money then the EF7200de is still a good choice.
Yamaha EF7200DE vs Similar Portable Generators
Table could not be displayed.
Similar models from other brands are the Honda EU700iat1 and the CAT RP6500E. All are midsize portable generators with a heavy duty design but still user-friendly enough for home use.
The Honda has similar surge power at 7000 watts but loses out in continuous power at 5500 watts. However, it is parallel capable like most inverter generators so with 2 machines linked together you would have a similar power output to a smaller home standby generator.
It also has a shorter run time with up to 6.5 hours on a rated load which the smaller fuel tank of 5.1 gallons might explain.
Similar features are the electrical start and wheel kit that comes standard with every product. It also has a similar pulling handle design which is definitely necessary to move all its 200 lbs of weight.
Where the Honda does get ahead of the Yamaha is the noise level. Despite its high capacity and size, the noise level is rated at only 52 – 58 decibels which is quieter than an average conversation between two people.
Compared to the CAT, the Yamaha loses out in terms of capacity. The CAT model has a starting wattage of 8125 watts and continuous power of 6500 watts so you are more flexible with the household load.
Run time is quite similar to the CAT. It has a larger fuel tank of 7.9 gallons which allows it to run for up to 12 hours on a half load which is ideal for overnight use.
The price range is also similar between the Yamaha and CAT so the main difference to look at is the power. Would you benefit from the extra wattage and slightly higher continuous watts?
Advantages and Disadvantages
Advantages

Each product comes standard with a wheel kit and battery which gives better portability and user friendliness of an electrical push start. The engine also has transistor controlled ignition (T.C.I.) which speeds up its starting and reduces maintenance requirements.

The fuel efficiency of the engine is impressive. 12 hours on half load is not a common feature for portable generators of its size.

The control panel is large giving you a clear overview of the basic information and location of the outlets and switches. It has a fuel gauge, hour meter, volt meter and low-oil indicator light with an automatic shutdown at low oil levels.
Disadvantages

Compared to similar models from other brands, the Yamaha comes out as one of the louder models with 80 decibels on a rated load. This makes it a less appropriate choice for homes in close vicinity to neighbors.

It is also a heavy design, however, its weight is quite similar to comparable models and each product comes with a wheel kit as compensation. For home use, building an outdoor weatherproof noise box is a smart idea to balance out both the heavy weight and sound levels.
Conclusion
The Yamaha EF7200de is a reliable heavy duty midsize portable generator. It has a few exceptional advantages like its engine quality and large control panel even though it is overall quite a standard design.
The fuel efficiency of the engine provides a very long run time and its engine quality makes it a reliable low maintenance machine. This is clearly the best feature of this model.
As for the downsides, there is nothing that could be considered a deal breaker. It is somewhat louder but not deafening for a construction site and it is heavy but compensated for with the standard wheel kit.
Overall, there is no reason to avoid this buying this machine but besides its top quality engine there is not exceptional defining characteristic either. You can qualify the EF7200de as a safe choice for a portable generator, floating in the middle of the rankings for similar sized models.
If you want a straightforward simple machine that is reliable and easily maintained, this is the one.
Last update on 2022-07-10 / Affiliate links / Images from Amazon Product Advertising API