Last updated on August 30th, 2021
Honda EU7000is Review & Buyers Guide
Honda EU7000is Review & Summary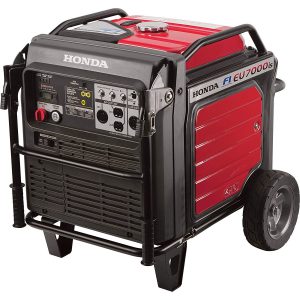 Product Name: Honda EU7000is
Product Description: The Honda EU7000is is mid-size inverter generator with 5500 watts of continuous power. It is a compact and portable design that runs very quietly, perfect for an RV, on a campsite or as a home backup generator when coupled using a parallel kit.
Noise Level

Reliability

Value vs. Cost

Ease of Use
Summary
The biggest model in the highly recommended Honda EU inverter generator series offers a good alternative to noisier and bulkier conventional portable generators in the same capacity category. However, the perks of inverter technology while maintaining mid-size capacity come with a considerate price tag.
Though not a budget option, this is a highly reliable and versatile piece of equipment that is best suited for frequent use with a long run time.
The Honda EU inverter generators are somewhat legendary in the world of portable power. Despite their price tag these products get rave reviews and consistently score well in expert tests.
The smaller versions floating at around 2000 watts are the most popular models. However, for those that want a higher capacity, without losing portability and performance quality, there is the Honda EU7000is.
This larger inverter generator with 5500 rated watts is the big brother of the EU2200is and its earlier models. But, how does it stand up against the more classic design and more lightweight inverters?
Is it worth buying the higher capacity alternative over getting two smaller EU2200is and making use of the parallel capabilities? Or, is connecting two EU7000is generators the better choice for powering your home during extreme weather conditions?
Read on to find out more about the Honda EU7000is, how it holds up against its predecessors and its competition.
This review is not based on any personal tests done on the machine but rather a comprehensive overview of the Honda EU7000is derived from expert reviews, customer comments and the specifications provided by the manufacturer. Any conclusions drawn in this review are based on a comparison of these three different sources of information.
About the Honda EU7000is
EU7000is Specs & Usage Information
Honda EU7000is: Technical Specs
| Product Information | Detail |
| --- | --- |
| Running Watts | 5,500 watts |
| Surge Wattage | 7,000 watts |
| Tank Size | 5.1 gallons |
| Run Time | 6.5 hours @ 1/2 load |
| Fuel | Gasoline |
| Noise Level | 58 dB |
| Weight | 261 lbs |
Surprisingly small in size for its capacity, the EU7000is maintains the portable qualities of a more traditional inverter generator. It is a compact square shape measuring 33.4 x 27.6 x 28.4 inches.
Weighing 261 pounds, it is much heavier than the most common inverter models which you can generally carry in one hand. However, the manufacturer compensates for the extra weight with a wheel kit that comes standard in the design and two fold-down handles for pulling it along.
One of the biggest selling points of the Honda EU series is how quiet the engine runs and that is no different with this model. Its rated noise level on a half load is only 58 decibels and on a quarter load only reaches around 52 decibels.
For comparison, an average conversation between 2 people has a noise rating of 60 decibels. In other words, your campsite conversation sounds louder than the hum of this Honda engine.
Another valued quality of inverter generators is their energy efficiency. Though not the most impressive feature, the estimated run time is still good.
On a 50% load, you can keep this generator running for 6.5 hours on a full 5.1 gallon gasoline tank. On a 25% load however, the run time shoots up to a very long 18 hours.
This version runs on a Honda GX390 engine which uses a smart fuel injection technology to make it more fuel-efficient, reducing carburetor problems and even eliminating the need for a choke. Its top quality efficient engines is one of the main reasons why Honda earns its reputation for being reliable.
At 5500 rated watts, this single piece of equipment gives you about double the power of the average hand-carried inverter generator. You can double its output to 11,000 watts (14,000 surge watts) by adding a parallel kit which is enough for running the essential household appliances like the refrigerator and electric stove.
Intuitive Control Panel
On the control panel you will find 2 GFCI 20 amp outlets, a 30 amp 125 volt locking outlet and a 30 amp 125/250 volt locking outlet. Unfortunately, there is no DC outlet available on this design so it is not suitable for charging batteries.
Next to the outlets is the I-monitor which keeps track of the running hours, output, engine speed, voltage and maintenance diagnostics. This acts as a good reminder for the next routine maintenance and also serves as a source of information in case a technician needs to do any repairs.
It also has the basic safety features such as automatic low-oil shutoff and indicator light and fuel gauge. For further convenience, it has an electric start which is a simple push button on the control panel.
Overall, you can consider the EU7000is a high capacity inverter generator. It has the same clean energy, fuel efficiency and quiet operation but with more power.
EU7000is vs EU2200is vs EU3000is
Table could not be displayed.
The smaller alternatives to the EU7000is are the EU2200is and EU3000is, all dependable, compact and straightforward inverter generators. Where the EU2200is and EU3000 is are highly suitable for camping and tailgating, the larger brother is much heavier and more appropriate as a home backup generator or for an RV.
One of the biggest downsides of the EU3000is is how heavy it is compared to other models with the same output. At 131 pounds, the 3000-watt version is not far off in weight from the 7000-watt version even though it holds double the power.
If portability is your priority then the smallest 2200-watt version is your best choice, by far. If this is not enough power for then get a second one and link the two generators together for double the power.
Not surprisingly, the smallest option is also the quietest at a mere 48 decibels However, all three models are extremely quiet, even compared to other brands, so none of them should pose a problem for your neighbors on the nature campsite or RV parks.
When compared to each other, the EU7000is is the most energy efficient since it can run for up to 18 hours on a 25% load. For comparison, at a 50% load the EU2200is rates at 8 hours run time and the EU3000is rates at 7 hours on a 25% load.
Reading straight from the specs sheet, the EU3000is is actually has the highest fuel consumption. You can derive this from the respective estimated run times and the fact that the EU3000is' fuel tank is not much smaller than the EU7000is' fuel tank; 3.4 gallons versus 5.1 gallons respectively.
Its long run time and higher capacity makes the EU7000is the most logical choice for residential use. It may not have the full power of a 20 kilowatt home standby generator but it is just enough for the basic appliances that you need to keep running during a power outage.
Its higher capacity also makes this the best choice for an RV. The design is easily stowed away in the vehicle when not in use and you won't be bothering your neighbors with a loud noise.
However, there is one downside when using the largest version for powering the appliances in an RV – it does not have a DC outlet. Depending on the type of vehicle you have, this may or may not be an issue.
Honda EU7000is vs Similar-Sized Inverter Generators
Table could not be displayed.
There are not many options available for inverter generators with the same capacity but close products are the Yamaha EF6300isDE and the Briggs & Stratton 30675 Q6500. Both alternatives have a lower maximum power at 6300 watts and 6500 watts respectively.
However, since there is quite a gap between the running wattage and surge watts of the Honda model, there is not that much difference in running wattage compared to the other brands. The Yamaha actually has the same running power at 5500 watts and the Briggs & Stratton has continuous power at 5000 watts.
So, for long term use, these 3 models are quite comparable and their performance is also quite similar in terms of run time. On a quarter load, the Yamaha can keep running for 13.5 hours, the Briggs & Stratton for 14 hours but the crown still goes to the Honda which clocks in at 18 hours on a 25% load.
Comparing the gasoline fuel tank size with their respective run times, it shows that the Honda is indeed the most fuel-efficient model. The Briggs & Stratton fuel tank only differs by 0.1 gallons and the Yamaha has a smaller fuel tank of 4.5 gallons.
Another notable difference is the design and portability. The EU7000is is the heaviest option compared to the 200 pounds of the EF6300iSDE and the 135 pounds of the much lighter Q6500.
All three models have tires standard in its design so there is some compensation for their heft compared to more portable small capacity models. However, there is significant different in the pulling handles which are also very important for portability.
The most portable design is the Q6500 because it has a telescoping handle which does not get in the way during storage. The least portable is the EF6300iSDE, despite being the lightest, because it only has simple handle on either side – it is more practical to carry the generator between 2 people rather than bending at an awkard angle to make use of its 4 wheels.
Finally, there is the price difference. Honda generators are rarely the budget option and compared to these alternatives is yet again the most expensive.
The cheapest option by far is the Briggs & Stratton which costs you around $1000. This is a very low price compared to the other 2 since both float around the $4000 price point.
Advantages and Disadvantages
Advantages

The brand loyalty for Honda generators comes from its dependability – it has a long lifespan thanks to its top quality engine and simple design that does not leave for much error. This is the main reason why experts and many consumers are willing to pay the extra bucks.

Another advantage of this model is that it has all the most important qualities of an inverter generator – quiet running, low THD and parallel capability – but delivers a much higher output. Especially when linking up 2 sets, you can power a wide range of appliances and power tools with ease.

The square design is also handy for storage and placement on an RV when not in use. It is also easy to move, despite its weight, thanks to the rear wheels and folding handles.

The final selling point is its energy efficiency and long run time. 18 hours is very impressive, for any type of generator, and other brands struggle to reach this same performance.
Disadvantages

There is only one real consideration that might steer you away from the EU7000is. A clear disadvantage is its high price which is much higher compared to a conventional portable generator with the same capacity.

You can justify this price when you are a regular user and need something that is highly dependable and capable of running long hours. However, for occasional use you can opt for a much more affordable model.
Conclusion
Overall, the EU7000is keeps up with the strong reputation of the Honda inverter generators. It has the same dependability, fuel efficiency and quiet running as its smaller sized counterparts.
Compared to other brand alternatives, its main downfall is the high price tag. On the other hand, the Yamaha EF6300iSDE falls in the same price category but is less portable and less dependable, making the Honda still the better choice.
If you frequently experience power cuts for an extended period of time or if you need a dependable off-grid power source that can handle heavy duty use, there is no better inverter generator with the same capacity than the Honda EU700is.
Last update on 2022-07-10 / Affiliate links / Images from Amazon Product Advertising API