Last updated on August 30th, 2021
WEN 56235i Review & Buyers Guide
This review is not based on any personal tests done on the product but rather a comprehensive overview of the WEN 56235i derived from expert reviews, customer comments and the specifications provided by the manufacturer. Any conclusions drawn in this review are based on a comparison of these three different sources of information.
WEN 56235i Review & Summary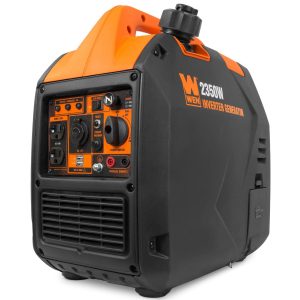 Product Name: WEN 56235i
Product Description: The WEN 56235i is an inverter generator with 1900 watts continuous power and 2350 peak watts. Weighing just 39 lbs with a rated noise level of 51 dB and a long run time of over 10 hours this is the ideal portable generator for camping.
Noise Level

Reliability

Value vs. Cost

Ease of Use
Summary
The 56235i is the best WEN inverter generator in the range. It has the best balance between fuel efficiency, noise level and weight – all of the most important features in a camping generator.
Other advantages of this model include an automatic fuel shutoff, eco-mode and variety in receptacles. Unless you need the extra power of the WEN 56380i, the WEN 56235i is the right choice.
Check Current Price
WEN is one of the best inverter generator brands. They are popular among consumers for their good portable design, affordability and reliability.
What is surprising about the WEN 56235i is that it is just one model in a range of very similar portable inverter generators. Most brands distinguish their models from each other by creating a generator for each power output category but that is not the case with the WEN 56235i.
In the same range you find the WEN 56200i, 56203i and 56225i, respectively rising in capacity by just 100 watts. Only the WEN 56380i has significantly more power, approximately 1500 watts more.
Now, you may ask yourself why we are picking out the WEN 56235i as our top choice. How is this model different from its little brothers and does the extra power really make a difference? Read on for our full review of the WEN 56235i.
About the 56235i
56235i: Technical Specs
| Product Information | Detail |
| --- | --- |
| Running Watts | 1,900 watts |
| Surge Watts | 2,350 watts |
| Tank Size | 1 Gal |
| Runtime | 10.5 hrs @ 1/4 load |
| Fuel | Gasoline |
| Noise level | 51 dB |
| Weight | 39 lbs |
The WEN 56235i falls under the 2000 watts generator category with 1900 watts of continuous power and 2350 watts or peak power. This is the common capacity range for inverter generators oriented towards outdoor activities such as camping and tailgating.
This inverter generator has enough capacity for most small electronic applications featuring three types of receptacles; two 120V receptacles, one DC receptacle and two 5V USB ports. Thanks to the low THD of just 1.2% on a full load, it is perfectly safe to connect sensitive electronics such as DSLR cameras, smartphones and laptops.
A Great Option for Camping
If you pay attention to the load you might be able to spend an entire weekend camping trip with a single full tank. The 1 gallon tank can run for over 10 hours on a quarter load which is plenty for keeping on travel lights and charging a smartphone.
You can conserve even more fuel by turning on the eco-mode. On eco-mode the inverter generator automatically adjusts its power output to the exact load so that no energy is wasted.
For those that need a little more power it might be worthwhile to bring along two units. Like most inverter generators, the WEN 56235i is parallel capable providing you with double capacity when necessary.
There are two specific safety features worth mentioning about the WEN 56235i. It has both a low fuel automatic shutoff and a low oil automatic shutoff.
When there is low fuel the machine cuts off the flow from the fuel tank and instead uses up the fuel inside the carburetor before shutting down by itself. The low oil shutoff works similarly.
These two elements extend the lifespan of the generator and reduces maintenance requirements. Good generators are never a small investment and WEN ensures that you get value for your money.
The WEN 56235i is both EPA and CARB-compliant so you can use it anywhere in the US. Camping trips in the woods are not a problem either – this model has a spark arrestor.
Finally, this model stays true to inverter generator expectations and keeps the noise to a minimum. At just 51 decibels on a rated load, a typical conversation sounds louder than this portable generator.
As we introduced the WEN 56235i, we mentioned its similarities to other models in the same product line. Let's get down to the details of why the WEN 56235i is still the better option.
Firstly, it is significantly more lightweight than the WEN 56200i – 9 lbs more lightweight to be exact. This is surprising since they have the same size fuel tank and the WEN 56200i produces 300 watts less power.
The WEN 56235i weighs less than half of the WEN 56380i but that is less surprising considering their capacity difference. The WEN 56380i fuel tank is twice as big, produces 1500 watts more power and has 4 hours more run time.
In this respect, the WEN 56235i is clearly the better option. Only when power is more important than portability would the WEN 56380i be a strong alternative.
To be fair, despite weighing nearly 100 lbs, the WEN 56380i could still be considered portable. It features rear wheels and a folding handle so you can easily pull it along without too much exertion.
So, portability might not be an immediate dealbreaker. That will depend on the specific purpose of this inverter generator.
For camping trips, the WEN 56235i might still be a better option even though it does not have any wheels. The rear wheels on the WEN 56380i are not suited to rolling over a forest floor.
The WEN 56380i is put to better use when powering an RV or during a tailgate. It also runs slightly louder at 57 decibels which is more noticeable in nature areas.
In short, if you are looking for an inverter generator that you can carry in your hand without too much fatigue, the WEN 56235i is the best of the bunch. However, if you are in need of more power capacity and the ground cover is flat enough then you can upgrade to the WEN 56380i.
Table could not be displayed.
Now, let's compare the WEN 56235i to two inverter generators that are noticeably different in their design and features. Take a look at how it differs from the classic Honda EU2200i and the ultra-modern Ryobi 2300.
The Honda EU2200i is famous for how quietly it runs; just 48 decibels on a rated load. The Ryobi 2300 is louder than both generators with a noise level of 57 decibels.
Still, all three inverter generators are rated at below 60 decibels which puts them firmly in the quiet generator category. Remember that these are their rated load noise levels so the WEN and Honda are safer options if you are concerned about noise pollution.
All three models have a very similar power output but the Honda does fall behind in terms of run time. Both the WEN and Ryobi have a quarter load run time over 10 hours while the Honda EU2200i barely makes it beyond 8 hours.
When comparing their fuel consumption it becomes clear that the WEN 56235i is the most fuel-efficient. The Honda has a slightly smaller gas tank while the Ryobi has a slightly larger one.
Having covered the basics of these inverter generators, we need to address what makes each of them stand out. Compared to these other two inverters, the WEN 56235i might seem somewhat standard.
The Honda EU2200i is an extremely popular inverter generator because it is one of the most reliable models available today. It is also extremely quiet and a simple user-friendly design for first-time generator users.
It has the downside of a manual recoil start but so does the WEN 56235i. What we do like about the Honda EU2200i is that its parts are slightly larger which makes maintenance just a little easier.
The Ryobi 2300 will please the tech-enthusiasts with its Bluetooth connection and smartphone app. Owners of this inverter generator will be able to control and monitor everything from a distance with just a few taps on their phone.
Where the Ryobi 2300 loses out to the WEN 56235i is its lack of a DC receptacle and price tag. The WEN 56235i remains one of the best value for money inverter generators.
To summarize, each of these inverter generators are excellent in their own right. For lifespan and reliability you will want the Honda EU2200i, for tech features the Ryobi 2300 and the safe midway option is the WEN 56235i.
Advantages and Disadvantages
Advantages

The WEN 56235i is considered lightweight, even for an inverter generator. At under 40 lbs it won't be too big of a pain to carry on shorter distances.

The low noise level is yet another example why inverters are the preferred type of generator for camping and other outdoor activities. Even at higher loads it won't surpass the sound level of a typical air conditioner.

The low oil shutoff and low fuel shutoff are big perks. Clogged old oil and fuel is an issue with many generators and we are happy that WEN is addressing this problem.

For such a compact generator there are plenty of receptacles on the control panel. This makes the WEN 56235i a versatile inverter generator; safe for sensitive electronics and capable of charging batteries.

For its size it also has a good run time. This is great for when you don't want to weigh yourself down with too much extra fuel.

Finally, we are fans of the eco-mode. It makes the inverter generator more fuel-efficient and extends the run time.
Disadvantages

It is difficult to find something bad to say about the WEN 56235i. It is one of those generators that may not rank at the very top but there is nothing really wrong with it either.

A few points can be deducted for this model only having a manual recoil start. An electric start is always preferable.

What might also stump a few users is that there is no monitoring screen showing information such as current load, run time and fuel levels. This means that using this generator will require some guesswork and extra preparedness.
Conclusion
Overall, the WEN 56235i is a safe inverter generator recommendation for most purposes. It is lightweight, not too noisy and has a good run time.
WEN, staying true to their reputation, managed to deliver yet another generator with excellent price-quality performance. Inverter generators are known to be more expensive than conventional portable generators but WEN successfully designed an inverter at a more accessible price point.
It is great to see that certain generator brands are dedicated to offering affordable generators that don't compromise on quality. In this regard, WEN is similar to generator brands such as Generac and Champion Power Equipment.
If you are an avid outdoors person and love to go camping then the WEN 56235i might be the perfect generator for your needs. It is EPA-certified, CARB-compliant and has a spark arrestor too – all the requirements for use in nature.
Considering its affordability, the WEN 56235i also remains a good choice for when you need more power output. This inverter generator is parallel capable so you can easily hook up a second unit to double the capacity.
That kind of versatility is why the WEN 56235i works equally well for tailgating and other outdoor events. The music will easily cover up the sound of the generator.
To conclude, the WEN 56235i is a good inverter generator choice for most. Whether you need a fuel-efficient and portable unit or something that is versatile without making too much noise, this inverter generator rises to the task.
Do you think that the WEN 56235i is the best model in WEN's inverter generator range?
Last update on 2022-07-10 / Affiliate links / Images from Amazon Product Advertising API