Last updated on August 30th, 2021
Briggs & Stratton Q6500 Review & Buyers Guide
This review is not based on any personal tests done on the product but rather a comprehensive overview of the Q6500 derived from expert reviews, customer comments and the specifications provided by the manufacturer. Any conclusions drawn in this review are based on a comparison of these three different sources of information.
Briggs & Stratton Q6500 Review & Summary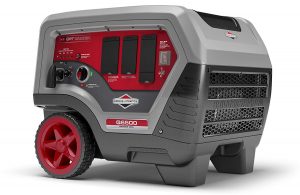 Product Name: Briggs & Stratton Q6500
Product Description: The Briggs & Stratton Q6500 is a gasoline-powered inverter generator with 6500 peak watts making it the highest capacity inverter model released by the company. It is part of the QuietPower Series characterized by low noise levels - 60% quieter than the average portable generator.
Noise Level

Reliability

Value vs. Cost

Ease of Use
Summary
The Q6500 has all the advantages of both an inverter generator and conventional portable generator. However, this combination of key features also brings along a few disadvantages.
Even though it is portable it is still on the heavier side and the increase in power also resulted in more noise. Setting aside these minor inconveniences, it is a fantastic reliable generator.
Check Current Price
Inverter generators have many advantages such as quiet running, being highly portable and having a low THD percentage. However, there is one downside to most models – most inverters have a low capacity which for many is the main reason to switch to a conventional portable generator.
Fortunately, a few of the best generator brands are releasing higher power inverter generators with the Briggs & Stratton Q6500 being an excellent example. With 6500 starting watts and 5000 running watts it is comparable to a mid-size portable generator but without the noise, better energy efficiency and cleaner electricity.
Are medium capacity inverter generators going to beat out regular gasoline generators of the same size? Does it truly have all the advantages of a same-size conventional portable generator without any of the disadvantages?
Read on for more user information on the Briggs & Stratton Q6500 inverter generator and decide whether it is time for switching to this more advanced generator technology?
About the Q6500
Q6500 Instructional Video
Q6500: Technical Specs
| Product Information | Detail |
| --- | --- |
| Running Watts | 5,000 watts |
| Surge Watts | 6,500 watts |
| Tank Size | 5 Gal |
| Runtime | 14 hrs @ 1/4 load |
| Fuel | Gasoline |
| Noise level | 66 dB |
| Weight | 138 lbs |
The Q6500 delivers amazing power for an inverter generator. At 6500 peak watts and 5000 running watts, it rivals a mid-size conventional portable generator.
This was exactly the intention of Briggs & Stratton but with a few key differences. Compared to a typical gas-powered generator with the same output, this inverter design is 45% smaller in its dimensions and 30% lighter at 128 pounds.
The interesting design is somewhat similar to animal-shaped suitcases intended for children. It measures at 25.5 x 21 x 21.5 inches with tires at one end and a telescopic pulling handle at the other end.
So yes, it is much heavier than the more common 2000-watt inverter models but thanks to the clever design it is still highly portable. The 8 inch wheels are solid-fill so you are at no risk of a puncture, even on rough terrain.
The number of power outlets that are included is impressive. Make use of any of its 4 120v 20A outlets, either 2 of the USB outlets for sensitive electronics or the 120v/240v locking outlet for construction tools that require more power.
That same locking outlet can also be used as an RV outlet with the appropriate adapter, not included. This does set back the voltage to 120 volts but that is the common requirement for RV electrical appliances.
Runs at Relatively Low Volume Considering the Output
Considering the number of outlets and its output, this small unit can even be used to power the basic household essentials such as the water pump, electric stove, refrigerator and of course all the lights. Your neighbors will be grateful to you since its rated noise level is only 66 decibels.
To be fair, 66 decibels is on the high end for an inverter generator. However, it is still far quieter than the 70+ decibels that an average portable generator produces.
In addition to quiet running on its own, all the generators in the series have the Quiet Power Technology feature. Essentially, this is a switch whereby the engine speed automatically adjusts to the load.
The Quiet Power Technology is a great feature that also makes it more energy efficient. A final noise-cancelling precaution is the full steel frame which not only keeps the noise inside, it also acts as a protective shield for the internal parts.
Moving on to its performance. Inverters are known as energy efficient generators and the 308cc engine does a good job in meeting that expectation.
The estimated run time on a 25% load is an impressive 14 hours on a full 5 gallon gas tank. This means that overnight use is no problem, at all.
The 24-month warranty is a good sign, especially combined with many consumer reviews not reporting any issues with it. This warranty is longer than the average producer warranty on most generators which suggests that this model is made to a high standard.
Finally, let's consider how user-friendly this model is. It was already mentioned that this is a highly portable design so it gets points for that aspect.
On the other hand, it loses points for not having an electrical start. As is common with inverters, there is no battery which does shave off a few pounds but a manual recoil system is not the most user-friendly starter.
The control panel is fairly simple with an LED display for its power usage and a fuel gauge. This gives you enough information to estimate how much longer it can keep running but not much else.
It has the standard safety features such as an automatic low-oil shutdown and automatic voltage regulator. However, it is not CARB compliant so not available for use in the state of California.
One final element that should be mentioned is that it is not parallel capable which most inverter generators are. Granted, the Q6500 is much more powerful, even compared to 2 conventional inverter generators joined together but imagine the power this compact unit could deliver if it was parallel capable.
Q6500 vs 7000-watt Elite Series vs P4500 PowerSmart Series
Briggs & Stratton has 3 signature generator series including the Elite Series and the PowerSmart Series. Let's make a quick comparison between the Q6500 and a similar sized model from the other two series.
If you are willing to forego the low THD and better portability for more power, the 7000-watt Elite Series generator is good alternative. This reliable model is meant for commercial purposes and has many interesting features.
The signature PowerSurge feature makes this unit even more powerful than its 7000 running watts and 8750 peak watts. This engine is capable of delivering a short but very powerful current to kickstart heavier electronic appliances without smaller capacity appliances losing power.
On the other hand, if fuel efficiency is your priority, look into the PowerSmart Series. The P4500 which has less power but is arguably also more portable is recommended as an RV generator.
The P4500 lasts for 16 hours on a 25% load with a full 3.5 gallon fuel tank. This is clearly more efficient than the Q6500 but it also beats the 9 hours on a 50% load of the 7000-watt model.
Overall, the P4500 gets closer to the standard inverter generator features. It runs more quietly, it is parallel capable and it is more lightweight than the Q6500.
Being parallel capable is its biggest selling point so if you are looking for all the benefits of an inverter generator but with more power, the P4500 is an excellent choice.
If the inverter generator advantages are less of a concern and the focus is on reliability and heavy duty use, the Elite Series is where you should look.
Briggs & Stratton Q6500 vs Westinghouse iGen4500 vs Honda EU7000is
Table could not be displayed.
There are few inverter generators with as much power as the Q6500 so we draw a comparison with the Westinghouse iGen4500. It has 4500 peak watts and 3700 running watts.
A stronger competitor is the Honda EU7000is with 7000 watts surge power and 5500 watts continuous power. It is still more powerful than the Briggs & Stratton model but for continuous power it is quite similar.
Overall, all 3 models are very compact for the amount of power that they deliver. In terms of portability the Westinghouse wins because it is the lightest and has both carrying handles and a pulling handle.
Fuel efficiency is won by the Honda with a run time of 18 hours on its 5 gallon fuel tank. The Westinghouse inverter also reaches 18 hours of run time but that is on a much smaller load.
One undeniable fact is that the Honda EU7000is is expensive. Even though it only gets rave reviews from experts and is one of the most reliable generator brands out there, its price point puts it outside of the budget for many consumers.
So, considering the price, the Briggs & Stratton Q6500 is still the best option. You get more power than with the Westinghouse with many of the same inverter generator advantages.
Alternatively, you could make use of the parallel capabilities of the Westinghouse generator but this again places you at a much higher price point. In terms of value, the Briggs & Stratton Q6500 delivers more.
Advantages and Disadvantages
Advantages

Its greatest advantage is that it delivers the power of a mid-size conventional portable generator but weighs much less and has a much better portable design. In other words, it is the more convenient choice for a generator of that capacity.

The rear wheels and telescopic handle means it is easily tugged along, even on rough terrain. This makes its heaviness a lesser disadvantage. The dimensions are quite small considering its output so it much easier to store than a conventional portable generator.

The number of different types of outlets is a welcome feature. It makes the entire unit more versatile, whether you use it as an emergency home backup generator, for an RV or tailgating.

It is a great choice for powering the more sensitive household electronics like the TV or computer. Conventional gas-powered portable generators have an unsteady current which damages electronics but the Q6500 has a low THD and so is a perfectly safe electricity source for them.

Finally, it is a very fuel efficient engine. The fuel tank is relatively large which gives you plenty of run time.
Disadvantages

Inverter generators are meant to be quiet and at 66 decibels this machine is far louder than smaller capacity inverters. It is important to note that more power naturally means more noise but it remains a downside of the Q6500.

Considering the many noise cancelling elements such as the steel frame and Quiet Power Technology, you would expect a quieter engine. It will be interesting to see if future models of the same capacity will manage to stay below the 62 decibels mark.

We have come to expect parallel capabilities from inverter generators so it is disappointing that the Q6500 is not. One could argue that it is overkill for the amount of power it already puts out but it would still be a great feature.

Those that want to use this generator for their RVs might be disappointed in the drop of power. When combined with an RV adapter, this unit only reaches a maximum of 4800 watts.
Conclusion
The beauty of the Briggs & Stratton Q6500 is that you get more than twice the power of the most common inverter generators but in one compact package. It is the perfect marriage of a hand-carry inverter generator and powerful conventional portable generators.
However, there are a few disappointing features, especially considering the improved elements in the Briggs & Stratton P4500. A few more improvements would make the Q6500 unbeatable.
To conclude, there are better alternatives for large inverter generators however compared to a conventional portable generator, the Q6500 is the clear winner.
Sale
Last update on 2022-07-10 / Affiliate links / Images from Amazon Product Advertising API