Last updated on August 30th, 2021
Westinghouse iGen4500 Review & Buyers Guide
This review is not based on any personal tests done on the product but rather a comprehensive overview of the Westinghouse iGen4500 derived from expert reviews, customer comments and the specifications provided by the manufacturer. Any conclusions drawn in this review are based on a comparison of these three different sources of information.
Westinghouse iGen4500 Review & Summary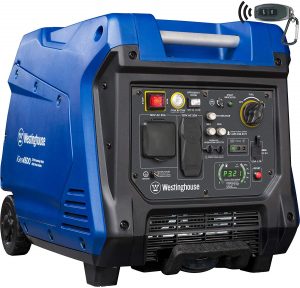 Product Name: Westinghouse igen4500
Product Description: The Westinghouse iGen4500 is an RV-ready highly portable inverter generator with 3700 watts continuous power and 4500 watts surge power,. The gasoline-powered engine runs extremely quietly at just 52 decibels and there is also a dual-fuel option available which is equally quiet.
Noise Level

Reliability

Value vs. Cost

Ease of Use
Summary
The Westinghouse iGen4500 is an excellent inverter generator with about twice the power of most inverter models. It is exceptionally quiet, very portable and very user-friendly making this a smart choice for when you need more power but don't want to give up on silence and portability.
Check Current Price
Inverter generators are fantastic for several reasons. They tend to be more lightweight, make less noise and produce clean electricity which is suitable for the most sensitive electronics like DSLR cameras, mobile phones and laptops.
The main concern with this type of generator is that there are few models available with a high output. Most inverter generator designs focus on high portability which unfortunately also means that there is a limit to the capacity – the larger the generator the more power it has.
So, when there is an inverter generator with a capacity beyond the standard 2000 watt category, it catches our attention. In this case it is the Westinghouse iGen4500 with 4500 peak watts and 3700 watts continuous power.
Marketed as a remote controlled RV-ready generator, the design is highly portable yet sturdy enough for most terrains. With this amount of output you can power most of the RV essentials.
Continue reading for the details on the Westinghouse iGen4500, how it compares to other models in the same series and to its competitors. Find out if this inverter generator's advantages can beat out the much larger but more affordable conventional portable generators.
About the iGen4500
iGen4500: Technical Specs
| Product Information | Detail |
| --- | --- |
| Running Watts | 3,700 watts |
| Surge Wattage | 4,500 watts |
| Tank Size | 3.4 gal |
| Run Time | 18 hrs @ 1/4 load |
| Fuel | Gasoline |
| Noise Level | 52 dB |
| Weight | 98 lbs |
At 4500 watts surge power and 3700 watts continuous power this is one of the more powerful inverter generators since many other models fall in the 2000 – 3000 watts range. However, it is important to note that the iGen4500 is not parallel capable so the output from this single unit is the maximum power that you can get.
There is a dual-fuel option, the Westinghouse iGen4500DF, but the basic version sticks to the more commonly used gasoline. It's 3.4 gallon fuel tank is good for up to 18 hours of running on a quarter load or 12 hours on a 50% load.
This is a larger fuel tank than most inverter generators but that is less surprising considering it also holds more power than most models. However, this is also means that it is a heavier design, it weighs nearly 100 pounds.
However, the clever design of the iGen4500 makes sure that the extra pounds are no issue when it comes to portability. It is an almost square compact design with a telescopic handle so you can pull the generator along – the solid fill never flat tires make sure that it can pass through most terrains.
The most impressive feature of this model is that it runs extremely quietly with a rated noise level of only 52 decibels. Despite its power and despite running on gasoline, this machine is still far quieter than the average conversation between two people.
This means that this is a smart choice for camping and any other outdoor activity where you don't want to disturb nature nor your neighbors. Knowing its low noise production, it is also very clever of Westinghouse to make this an RV-ready generator because that only makes this model an even clearer choice over its competition.
Another cool feature is that the iGen4500 has an electric start which you can control from a distance using the key fob which comes with the package. Again, this is a feature that is rare for inverter generators which makes this design more user-friendly.
Informative LED Display
The LED data center shows the current output in percentages and remaining fuel constantly while automatically rotating through the other basic information;
remaining run time
power output in kilowatts
fuel level in liters
voltage
total running hours of the unit
As for the plugs, you have two 5-20R 120v household outlets and two USB ports available to you. As mentioned, this generator is RV-ready so there is also a 120v 30A TT-30R outlet, standard for most campers and RVs.
As mentioned, the iGen4500 provided 'clean electricity' with a total harmonic distortion of less than 3%. It is also EPA and CARB compliant and thus legal for use in all 50 states.
Considering all these specs and extra features, the price is very friendly. There are inverter generators out there with fewer features and less power with the same price tag so in comparison, the Westinghouse iGen4500 is not expensive.
iGen4500 vs iGen2500 vs iGen4500DF
Table could not be displayed.
In the same Westinghouse series you will also find the dual fuel alternative, iGen4500DF and the smaller output unit, the iGen2500. The iGen4500DF is essentially the same as the gasoline-powered version while there are several significant differences with the smaller sized generator.
The only real difference between the iGen4500 and iGen4500DF is that the latter allows for an on-the-go fuel change between gasoline and propane. On propane, the unit has 3330 rated watts and 4050 peak watts but besides this the basic specs like run time, weight, outlets and noise are the same.
With the iGen2500 the obvious difference is the output. The iGen2500 has 2500 surge watts and 2200 rated watts. It has a much smaller fuel tank of just 1 gallon which when full can deliver 10 hours run time on a 25% load.
With the smaller capacity you also get a much smaller design which is even more portable. This lightweight unit has carrying handle at the top – weighing only 48 pounds it is easy enough to carry in just one hand.
The iGen2500 is also parallel capable so in theory, getting 2 of these units would give a similar output as the larger iGen4500 which is not parallel capable. However, two iGen2500 units would cost you more than a single iGen4500 unit so consider if that makes it still worth it.
Westinghouse iGen4500 vs Briggs & Stratton P4500
There are few inverters with the same capacity as the iGen4500. The closest competition is the Briggs & Stratton P4500, part of their PowerSmart Series.
The power output of these two units is exactly the same. The P4500 fuel tank is slightly larger at 3.5 gallons but the maximum run time on a 25% load is shorter at 16 hours.
It also weighs slightly more at 115 pounds but the similar suitcase-like design still keeps the Briggs & Stratton model portable. Like the Westinghouse unit, it has two carrying handles to share the weight among two people or simply pull the unit along using the telescopic handle and never-flat tires.
The number of outlets is also exactly the same so the Briggs & Stratton P4500 is equally suitable for an RV. On the control panel you'll also find an LCD display which shows information on the run time, current load and maintenance reminders.
Like the Westinghouse unit, the P4500 has an electric start but you do so via a push button. There is no remote start key fob available the Briggs & Stratton model.
One significant difference is that the P4500 is parallel capable which gives the Briggs & Stratton an edge over the Westinghouse unit. However, the P4500 is a pricey piece of equipment, more expensive than the iGen4500 so consider your budget when you are thinking of powering up.
One last important comparison is the noise level but since Briggs & Stratton does not release this information, we cannot make this comparison. What we do know is that it features the manufacturer's Quiet Power Technology which several reviewers commented on as notably quiet.
Overall, these two inverter generators are very similar, from their capacity to power outlets, portability and control panel. The main differences are that the Briggs & Stratton does not have a remote start but it is parallel capable.
If you need more power but still want to use highly portable generators, then the Briggs & Stratton 4500 is a smart consideration. However, considering the cost of buying to parallel units, you might be better off in terms of budget and portability with a single more powerful inverter generator; the Honda EU7000iat.
Advantages and Disadvantages
Advantages

Many smaller output inverter generators only have an recoil start because this eliminates the need for a battery which in turn cuts out a few pounds of weight. The Westinghouse iGen4500 does have a battery which is necessary for its remote control start.

Although this battery does make this generator heavier, it is more user-friendly. Plus, the design compensates for the extra weight so well that this is still an portable unit.

The overall design offers excellent portability, even though it is heavier than most standard inverter generator models. Besides the telescopic pulling handle to match the never-flat tires, there are also 2 carrying handles to give you better grip when lifting.

The LED display is great for monitoring purposes, even when there is little visibility you can still read the information. Also, by using a rotating display system it does not take up too much space on the control panel.
Disadvantages

Most inverter generators are parallel capable but that is not the case with the Westinghouse iGen4500. Considering that parallel capabilities are almost a basic feature on inverters now, it is very unfortunate that this model is not.

The iGen4500 would gain extra points if it were parallel capable. With the same compact size and portability this inverter would have the competitive advantage over most mid-size conventional portable generators, if only it were parallel capable.

Other than this notable downsides, there are few negative things to say about the unit. However, several consumers do complain about the customer service.

So, before you do anything else, read the user manual right after receiving the package. Make sure that you understand the warranty and abide by the requirements to avoid unnecessary disappointments.
Conclusion
Both experts and consumers are very pleased with the design and performance of the Westinghouse iGen4500. This inverter generator fulfills the gap in the market for higher capacity inverters that still run quietly and have a portable design.
Although it has a plastic exterior, the generator can handle a few scratches. Also, it has never flat tires so there is no reason you cannot bring it along on a camping trip with rough uneven ground.
The fuel efficiency is good – it can run smaller loads for a majority of the day or overnight. It is also so quiet at only 52 decibels that your neighbors won't complain if you do decide to keep it running at night.
This is also a user-friendly device with both an electric start and a remote start. The LED display allows for quick monitoring and serves as a good reminder for the maintenance schedule.
Overall, there are few things you can fault the Westinghouse iGen4500 for. If your power requirements fall within its capacity, there is no reason to get two smaller units with parallel capabilities – a single unit is more portable, more affordable and less of a hassle during maintenance.
This is an excellent inverter generator.
Sale
Last update on 2022-07-10 / Affiliate links / Images from Amazon Product Advertising API