Last updated on August 30th, 2021
Westinghouse Wgen 7500 Review & Buyers Guide
Westinghouse WGen7500 Review & Summary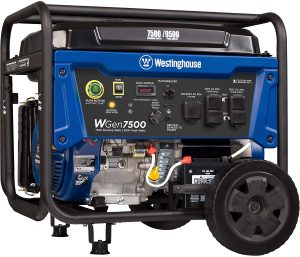 Product Name: Westinghouse WGen7500
Product Description: The Westinghouse WGen7500 is a high capacity portable generator with 7500 watts continuous power and 9500 peak watts. This plug-and-go model is known for being exceptionally user-friendly thanks to the quick remote start, straightforward control panel and simple maintenance.
Noise Level

Reliability

Value vs. Cost

Ease of Use
Summary
The Westinghouse WGen7500 is a very user-friendly mid-range portable generator, perfect as a home backup generator. Its long run time, simple maintenance and easy starting are all good reasons for choosing this model.
Experts also acknowledge its good quality and long lifespan with the exception of the battery. However, there are very few reasons not to buy this generator and it stands strong against its competition.
Check Current Price
First-time users of generators may be puzzled by all the different safety precautions and required steps. How do you handle the transfer switch, should the choke be open or closed, why is the engine not purring after pulling the pull start, and so forth.
Manufacturers are catching on and we are starting to see more user-friendly models with quicker and simpler ways to get the engine running. One such example is the Westinghouse WGen7500 which has both an electric start button and a remote start using a key fob.
This newer model comes was released after Westinghouse regained control over their customer service and technical support so the user-friendly experience goes beyond the product's features. Find out why the brand's popularity grew over the last few years and why you should get their versatile WGen7500 model.
This review is not based on any personal tests done on the machine but rather a comprehensive overview of the WGen7500 derived from expert reviews, customer comments and the specifications provided by the manufacturer. Any conclusions drawn in this review are based on a comparison of these three different sources of information.
About the WGen7500
WGen7500: Technical Specs
| Product Information | Detail |
| --- | --- |
| Running Watts | 7,500 watts |
| Surge Wattage | 9,500 watts |
| Tank Size | 6.6 gallons |
| Run Time | 16 hours @ 1/4 load |
| Fuel | Gasoline |
| Noise Level | 64 dB |
| Weight | 192 lbs |
The WGen7500 is one of the highest capacity options in the WGen series from Westinghouse. The main objective of this series is providing generators that are easy enough to use regularly at home.
For the manufacturer this means a product line with easy maintenance, intuitive handling and simple starting. The WGen series was designed with the homeowner in mind, not necessarily construction workers or commercial spaces.
Westinghouse definitely accomplished in including all the features that pushes the regular person to choose their product. There are few examples of portable generators that are as easy to handle and care for.
First-off, each product is designed as a plug-and-go machine so it is ready for use as soon as it arrives. It even comes transfer switch ready with an L14-30 30A 120/240v twist lock.
Easy To Use Control Panel
Getting the engine running is as simple as pushing a button. You have the choice between the push button on the control panel or using the included key fob which can start the engine from a distance of up to 109 yards.
Another feature assuring an easy start is the onboard battery charge port. This helps keep the battery's charge for longer but also lets you charge while using the generator.
The most impressive aspect of this design is the long run time. With a full 6.6 gallon tank the 4420cc engine will keep running for up to 16 hours which is perfect for overnight electricity needs.
This generator is quite powerful with 7500 continuous watts and 9500 peak watts. This is enough power for a connecting electrical tools during home improvement or keeping the essential household appliances going during a power cut.
Another notable feature is how the WGen7500 is quiet compared to many other portable generators of the same size. Where many other portable generators have a noise level of 70 decibels or more, this Westinghouse model has a rated noise level of only 64 decibels thanks to the pulse-flo muffler.
A final aspect to discuss is the sturdy steel design that is still portable enough thanks to the rear wheels and folding handle. This setup makes it easy to pull along all 192 pounds like a cart.
The engine has extra protection with a cast iron sleeve. Other safety features include a low oil shutdown, a fuel gauge and digital hour meter for maintenance reminders.
WGen7500 vs iGen4500 vs WGen9500
The WGen series also has both smaller capacity and higher capacity alternatives. For example, for smaller loads and greater portability there is the inverter iGen4500 and for bigger load requirements there is the WGen9500 with 12500 peak watts.
The inverter generator has 3700 watts continuous power and 4500 watts surge power. This is on the more powerful side for inverter generators which is a necessity considering this model is not parallel capable.
If you are looking for a portable generator that can function as a home backup generator the WGen9500 is a good bet. It holds enough power for running all the essential household appliances.
All three models have the ease of use that you wish for including electric start button, remote key start, EPA and CARB compliance and a wheel kit. Also characteristic of all three is the extremely long run time; on a 25% load the iGen4500 and WGen9500 have a run time of 18 hours and 17.5 hours respectively.
The main disadvantage of the largest option is that it is significantly louder than the other two. The WGen9500 has a rated noise level of 73 decibels while the WGen7500 is rated at only 64 decibels.
As expected, the inverter generator option is the most quiet with only 52 decibels. So, considering the noise level and power, the iGen4500 is most appropriate for camping where it won't bother your neighbors or the beautiful atmosphere of nature.
Between the WGen7500 and WGen9500 there are actually few differences besides the power output and noise level. So, when choosing between these two options the main consideration is the output requirements and where you will be placing it.
Both portable generators are a fair choice as a home backup generator but the larger version is even more suitable for a work site. This is because of the noise level, sturdy design, available outlets and long run time.
It is also worthy to note that there are several more alternatives in the same series that offer dual fuel features like the WGen7500DF and WGen3600DF. These are a smart choice for those that won't be using the generator that frequently and want easier fuel storage.
Westinghouse WGen7500 vs Champion 7500-Watt Dual Fuel vs Honda EU7000is
Table could not be displayed.
Examples of generators from other brands with similar output are the Champion 7500 watt, a hybrid portable generator and the Honda EU7000is, an inverter generator. Compared to the Westinghouse, the Champion is a much more simple model while the Honda is in a category all of its own.
Starting with the Champion, the first notable difference is that it does not have a remote start, only a push start. It does however have cold start technology, which makes this option more suitable for winter and colder climates.
The Champion is also louder with a rated noise level of 74 decibels which is 10 decibels more than the WGen7500. It also loses out in run time capable of only 5.5 hours using a 20-pound LPG tank or 8 hours on a full 6.1 gallon gasoline tank with a 50% load.
Basically, the main advantage of the Champion over the Westinghouse is that it is a hybrid. However, you can get the same size Westinghouse with dual fuel capabilities too, and it barely differs in price.
Comparing the Westinghouse to the Honda EU7000is is more difficult because it is comparing a conventional portable generator to an inverter generator. These two types of generators are inherently different.
For example, the EU7000is is extremely quiet with a noise level between 52 – 60 decibels, depending on the load. It also supplies much cleaner electricity making it a much more appropriate choice for sensitive electronics like laptops, drones and mobile phones.
However, there are also a few surprising similarities and aspects that make the Westinghouse preferable. For example, the Honda is very heavy for an inverter generator weighing 262 pounds, and that is without a full 5.1 gallon fuel tank.
Then there is the output with the EU7000is having only 5500 running watts. Knowing this, the run time of 6 hours on a rated load and 18 hours on a 25% load also becomes less impressive.
In short, the Honda EU7000is is not the better option for higher output requirements and running electronics for long periods of time. It is only more suitable for an RV or when you want to charge sensitive electronics devices.
So, between these three, the Westinghouse has the most advantages in terms of features, specs and pricing. Although it is not a budget option it is value for money compared to its competition.
Advantages and Disadvantages
Advantages

The biggest advantage of the Westinghouse WGen7500 is the very long run time. The 6.6 gallon fuel tank is good for 16 hours on a 25% load which is just enough for overnight essentials like lights, a portable space heater or small air conditioner.

The ease of use is the second biggest selling factor of this unit and the entire series. The remote start is great for those that want to keep the generator further away from buildings to drown out the noise and keep the fumes away.

Maintenance is also simple with an onboard charging port for the battery so you don't have to disassemble the generator to remove the battery for charging. It also has a digital hours display to remind you of the next routine maintenance point.

Best of all, each unit arrives ready to go meaning no assembly is required and it is transfer switch ready. This is great for first time generator owners and those that seek simplicity above all else.

One surprising advantage is the noise level which is relatively lower compared to many other brands with the same output. It is also built for a long lifespan with a roll cage, solid fill tires and extra protection for the engine.
Disadvantages

Several customers have had complaints about the battery which is an important factor in making sure that both the electrical push start and remote start work. Although batteries are generally a simple replacement, it is unfortunate the company did not choose a more reliable battery.

The other downside is that it is relatively heavy so not suitable for purposes where you want to move it around a lot. If you can install a weather safe outdoor generator housing, that would save you a lot of energy.
Conclusion
Overall, the Westinghouse WGen7500 has more advantages than disadvantages. Apart from complaints about the included battery and the weight, there is little you can fault this design on.
Experts recommend this model for first-time generator owners because it is easy to get the engine running, requires minimal assembly and maintenance is simple. The producer has really paid attention to the little details that make handling a generator much easier and more straightforward.
The output capacity is strong enough for most household appliances, including air conditioning, so it is a good option as a portable home backup generator. However, do calculate the power requirements of the devices that you want to connect because it is not a whole house generator.
Despite its sturdy design including a full steel frame and casing for the engine, it is not the most ideal choice for a work site. This is because it is reasonably heavy so not the easiest to move around.
In short, this is a great option for homeowners that experience frequent power cuts that last for several hours or even days. Even better, upgrade to the dual fuel model, WGen7500DF and get the extra advantage of easy fuel storage.
Sale
Last update on 2022-07-10 / Affiliate links / Images from Amazon Product Advertising API