Last updated on August 30th, 2021
DuroMax XP4400E Review & Buyers Guide
DuroMax XP4400E Review & Summary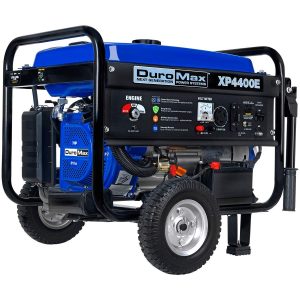 Product Name: DuroMax XP4400E
Product Description: The EPA and CARB approved DuroMax XP44000E is a midsize portable generator with an electric start. The powerful 7 HP engine makes this model suitable for heavy duty use on work sites, running household appliances during a power cut and for powering the RV's AC unit.
Noise Level

Reliability

Value vs. Cost

Ease of Use
Summary
The DuroMax XP4400E is a great budget option with good specs at a low price. It is designed as a heavy duty model but with a midsize capacity most appropriate for RVs.
With the 3-year warranty, this is a safe choice for smaller power requirements but also consider the dual fuel alternatives in the XP series.
Check Current Price
DuroMax is known for delivering affordable portable generators designed with heavy-duty use in mind. Their signature style is a lightweight open steel frame protecting a powerful engine with a wheel provided as standard with each purchase.
The XP series, in particular, is very popular because each version is a good all-rounder. In other words, construction site workers are happy with the force of the engine while homeowners are pleased with the ease of use and load capacity.
The brand is also known for its affordability which brings up the question of reliability and lifespan. Does DuroMax offer good quality generators or does the price range suggest otherwise?
Read this DuroMax generator review to learn more about their star product, the 4400E, with a capacity of 3500 running watts. Find out why this model is so popular among customers and what they are using it for.
This review is not based on any personal tests done on the machine but rather a comprehensive overview of the DuroMax XP4400E derived from expert reviews, customer comments and the specifications provided by the manufacturer. Any conclusions drawn in this review are based on a comparison of these three different sources of information.
If you are looking to buy your first generator, whether it be for power outages or that brand new RV that you have just purchased and are concerned about the safety there really is no need to worry.
About the DuroMax XP4400E Generator
DuroMax Instructional Video
XP4400E: Technical Specs
| Product Information | Detail |
| --- | --- |
| Running Watts | 3,500 watts |
| Surge Wattage | 4,400 watts |
| Tank Size | 4 gallons |
| Run Time | 8 hours @ 1/2 load |
| Fuel | Gasoline |
| Noise Level | 69 dB |
| Weight | 120 lbs |
When reading the product descriptions and reviews of this model you find the word heavy-duty mentioned several times. Yet, looking at the DuroMax xp4400e specs, it only holds 3500 watts continuous power and 4400 watt generator surge power which is a much lower capacity compared to other generators marketed as heavy-duty models.
The reason why DuroMax still describes this as a heavy-duty unit is the relatively big 7 horsepower engine and the load that it can handle. On the control panel are both 120-volt and 240-volt outlets which you can use simultaneously, allowing for more connected devices.
The manufacturer recommends this unit for RVs since it can power a 13500 BTU AC with ease. Air conditioners are an example of household appliances with the greatest electricity requirements so the fact that this 3500-watt generator is able to run it, shows how powerful it is.
Fuel-efficiency on this unit is decent with a 4-gallon fuel tank that will keep the engine running for 8 hours on a half load. This is not the best choice for an overnight whole house off-grid power source considering those specs but still good enough for most daily tasks.
You don't have to worry about damaging the parts with long periods of use, though. The manufacturer has included plenty of features that prolong the lifespan and keeps things running smoothly.
For example, the engine is air-cooled so you reduce the risk of overheating and an automatic low oil shutdown to prevent engine damage. It also has a voltmeter and circuit breakers to prevent overloading.
Any conventional portable generator with a noise level below 70 decibels can be classified as relatively quiet because this category is notorious for being loud. At 69 decibels, the pre-installed muffler manages to keep it just below that limit but you still need to place at a considerable distance for a comfortable sound level.
Easy Portability
Thankfully, this model comes standard with solid fill rear wheels, perfect for rough terrain, and a folding handle so you can pull it along like a cart. Plus, it is quite lightweight for its size at only 120 pounds so, you won't be breaking a sweat moving it.
Besides portability, another frequently mentioned benefit of this model is how user-friendly it is. You notice that the company wanted this design to be as straightforward in use as possible.
The first noticeable feature is the assembly of the wheel kit. You get all the necessary parts delivered with the package so you don't have to waste your time with wrong size bolts and tools.
This version comes with an electric start for quickness and ease but several reviewers and experts also note that manual recoil system is much easier to handle compared to other brands. In other words, you won't struggle with getting this engine to purr into life.
Finally, there is a clear and large control panel that is intuitive. Here you find 3 AC current outlets and 1 DC current outlet for charging batteries, the circuit breakers, voltmeter, and simple turn-key engine starter.
Overall, this has very good technical specs for its price range, delivering better value compared to several other brands. It is also a highly user-friendly option which is great for first-time generator owners.
XP4400E vs 4400EH Hybrid vs 12000EH Dual Fuel
Tank Size
3.6 gal (gas) | 20 gal suggested propane size
8.3 gal (gas) | 40 gal suggested propane size
Runtime
11.4 hrs @ 1/2 load (gas) | 9.8 hrs @ 1/2 load (propane)
8.8 hrs @ 1/2 load (gas) | 7.2 hrs @ 1/2 load (propane)
Tank Size
3.6 gal (gas) | 20 gal suggested propane size
Runtime
11.4 hrs @ 1/2 load (gas) | 9.8 hrs @ 1/2 load (propane)
The DuroMax generator 4400E is one of the more basic versions but with just a slightly bigger budget you are able to get their dual fuel models. Good examples are the 4400EH with the same capacity and the 12000EH which is the biggest option in the series.
The price difference between the 4400E and the4400EH is minor so if you are happy with the other specs, it is definitely worth taking the dual fuel option. This gives you better fuel security and easier fuel storage because it runs on LPG, , as well.
The hybrid version is also slightly smaller in size but does weigh 8 pounds more. A much more significant difference between these two generators is the run time with the hybrid clearly having better specs.
Where the basic model is capable of 8 hours on a half load, the hybrid runs for nearly 11.5 hours with the same load and nearly 10 hours when connected to an LPG tank. Considering the 4400EH has the same size fuel tank, this factor clearly shows that the hybrid is more fuel-efficient.
However, if more power is what you are looking then consider the highest capacity version in the series, the XP12000EH with 9500 watts running power and 12 kilowatts of surge power. This is a true powerhouse including a 50-amp outlet for the most energy-consuming devices and tools.
However, more power comes at a much higher price with this unit costing more than double what the 4400 models cost. On the other hand, the unit also has over 3 times the capacity so the price does make sense.
Besides the price and value, consideration, there are notable differences in specs. It comes with a powerful 50 cc engine including the MX2 power boost. The MX2 power boost is a simple switch that lets you double the voltage for the most demanding appliances.
It has a much larger fuel tank of 8.3 gallons to power all this extra electricity. A full gasoline tank will keep the engine running for nearly 9 hours on a half load and just over 7 hours with a 40-gallon propane tank.
So, even though you get more power and a larger fuel tank, your run time falls back to that of the XP4400E. So, if you intend to use the XP12000EH as a whole-house generator as the manufacturer suggests, be sure you have both fuel types at the ready so you can extend the run time before refueling.
One good aspect of its fuel efficiency is the idle control which drops the engine speed for smaller loads. This reduces fuel consumption but also makes the machine less noisy.
When comparing all three options, there is a clear divide in purpose. The XP12000EH is the obvious choice for a whole house generator but there is little difference between the 4400E and 4400EH.
Considering the specs and price, the hybrid dual fuel option gives you more bang for your buck than the standard electrical start option so you should definitely choose the upgraded version when it is available.
DuroMax XP4400E vs DuroStar DS4000S vs Westinghouse WGen3600v
Usually, this section of the review compares the product to a more expensive option and a cheaper alternative. However, in this case, we look at the DuroStar DS4000S and Westinghouse WGen3600v which both have a similar capacity but also both have a smaller price tag.
Simply looking at these units side by side already gives you some clues as to why the DuroStar and Westinghouse models are cheaper. Neither has a wheel kit which on its own is already worth several hundred dollars.
The wheel kit is really necessary for a generator in this category because it barely qualifies as portable without it. Even when using their open steel frames as handles, they are quite heavy, around 100 pounds, and must be carried by at least 2 people.
Another valuable difference is the starting method with DuroMax being the only option with an electric start. This is yet another factor that makes the 4400 more user-friendly compared to its competition.
DuroStar and DuroMax are sister-companies so you can expect a few similarities. For example, they both have a 7 HP air-cooled engine and a simple straightforward control panel.
Surprisingly, despite the same engine and fuel tank size, the DS4000S is more fuel-efficient with a run time of over 12 hours on a half load. The WGen3600v also has a longer run time of up to 18 hours on a quarter load.
So, the main advantage of the competition is the run time. However, for product quality, user-friendliness and warranty (3 years vs 1 year), the DuroMax remains the safer choice.
Advantages and Disadvantages of XP4400E
Advantages

The biggest reason to get one of the XP series models is the great value for money. Each one is set at an affordable price with good quality parts and much appreciated features.

These are also highly portable units that come with an easily assembled wheel kit and folding handle. This is an essential feature since it weighs over 100 pounds.

What is unique about this model is that it has heavy-duty features without being a large capacity portable generator. For example, it has both 120/240 volt power outlets, a sturdy steel open frame and all copper windings for an extended lifespan.

This version is also both EPA and CARB-compliant so it is safe for use in all 50 states, making this a great choice for an RV.
Disadvantages

The run time is disappointing, especially considering the run time of the hybrid alternatives. Although 8 hours for a 50% load is decent, it is not suitable for overnight use or as a whole house generator.

The other disadvantages have nothing to do with the actual specs and performance but rather the customer service. Several reviews mention the poor packaging that it comes in which leaves you more susceptible to faults from damage during shipping.

Also, customer service should be more accessible because the included manuals are not as clear as they could be. This is surprising considering the machine is otherwise straightforward in use.
Conclusion
Overall, it is a good value for money basic unit. However, the hybrid alternatives in the same series have a slightly better performance at nearly the same price so they are even more worth it.
Compared to other brands, this model comes out great in its specs with the run time being the main exception. Overall, there is nothing terribly wrong with this unit and it serves well as a budget choice for RV trips or as a portable generator for short power cuts at home.
Last update on 2022-07-10 / Affiliate links / Images from Amazon Product Advertising API