Last updated on August 30th, 2021
Duromax XP12000EH Review & Buyers Guide
Duromax XP12000EH Review & Summary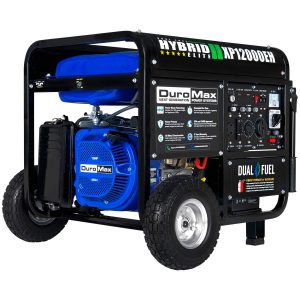 Product Name: Duromax XP12000EH
Product Description: This is a 12,000 watt sturdy whole house portable generator that can run on both gasoline and liquid propane. The dual fuel feature gives you more flexibility which also means a more dependable power source for longer power cuts.
Noise Level

Reliability

Value vs. Cost

Ease of Use
Summary
A high capacity dual fuel portable generator like the Duromax XP12000EH functions well as a home backup generator. It is more affordable and versatile than a standby generator while still holding enough power for running most household appliances.
On gasoline, the engine is strong enough for 12,000 watts surge power and 9500 watts continuous power. On liquid propane, the machine delivers 11,400 watts surge power and 9025 watts running power.
Besides being great for keeping the essential electronics running at home, this cart-model with solid-fill wheels is also suitable as a work site generator thanks to its heavy duty design. It features a full-metal frame with fully isolated motor mounts which act as a protective casing for the machine.
Check Current Price
Portable generators remain popular compared to a home standby generator because of their versatility and cost. Being a temporary connection, the installation process is easier and also more affordable.
On the other hand, a standby generator can be connected to your home's natural gas supply which is safer, more economical and requires less monitoring. To compensate for this, several manufacturers release a dual fuel model, such as the Duromax XP12000EH.
So, how does this hybrid compare to conventional fuel-powered generators? Is it worth getting the dual fuel option or is the Duromax XP12000e, which also has an electrical start but only runs on gasoline, the better choice?
This review is not based on any personal tests done on the machine but rather a comprehensive overview of the Duromax XP12000EH derived from expert reviews, customer comments and the specifications provided by the manufacturer. Any conclusions drawn in this review are based on a comparison of these three different sources of information.
About the XP12000EH
The Duromax XP12000EH is a 12,000 watt portable generator with both a manual recoil and electrical start. This is the dual fuel alternative to the XP12000e which are both nicknamed 'The Beast'.
This model is a heavy duty design with a steel frame and solid fill wheels that can cross any terrain. Considering its build and long run time, this is a good option for a work site generator.
The run time also makes this model a good choice for households that often experience longer power outages, during extreme weather conditions for example. Since this hybrid can also run on propane, there is the added advantage of more affordable running costs compared to a conventional portable generator fueled by gasoline alone.
Duromax XP12000EH Specs
Duromax XP12000EH: Technical Specs
| Product Information | Detail |
| --- | --- |
| Running Watts (gasoline) | 9500 watts |
| Surge Wattage (gasoline) | 12000 watts |
| Running Watts (propane) | 11400 watts |
| Surge Watts (propane) | 9025 watts |
| Fuel | Gasoline & propane |
| Tank Capacity (gasoline) | 8.3 gallons |
| Tank Capacity (propane) | 40 gallons |
| Run Time (gasoline) | 8.83 hours |
| Run Time (propane) | 7.2 hours |
| Weight | 260 lbs |
| Noise Level | 74 dB at 1/4 load |
Since this is a dual fuel generator, we need to take a look at how it runs on both gasoline and propane because there is bound to be a difference. In general, gasoline generators deliver more power than those running on natural gas or liquid propane.
That is also the case here; on gasoline the XP12000EH has 600 watts more surge power and 475 watts more running power. However, the difference in power is almost negligible when you think about all the household devices that you can run simultaneously with this much power.
Propane is often the more economical fuel choice because it is more efficient than gasoline. However, you would not draw that conclusion if you only look at the specs.
From the specs it seems as though the engine is more energy-efficient on gasoline because it also has a longer run time and smaller tank size compared to when it runs on propane. Combine this with the lower power delivery on propane and you can understand why gasoline is still a popular fuel source for generators.
On the other hand, propane prices generally remain lower than gasoline prices so there is the advantage of lower running costs. Plus, storing propane is much easier and more economical because it does not degrade or lose combustibility like gasoline does.
However, you don't necessarily need to make a choice about your fuel preference with this hybrid. You can almost seamlessly switch between the options to give almost double the total run time.
Separately the fuel options offer just a standard run time but if you fuel up both tanks, you get a very long total run time of 16 hours before your next refueling. This offers you a lower maintenance option for a long running dependable power source.
Moving on from the aspects related to the fuel, take a look at the other features of this model. The next mentioned specs are actually identical to the specs of the XP12000E alternative.
There is no denying that this is not a silent generator but with an 18 horsepower 457cc engine that runs at 3600 RPM, that is not a surprising fact. The rated noise level is 74 decibels which is louder than the the average vacuum cleaner but still surprisingly acceptable for the amount of power it delivers.
The noise reduction is a result of the oversized muffler that Duromax installs as standard for this model. Remember that fuel-powered generators must be placed at a considerable distance from any building so there is additional comfort in that the sound is not as audible from inside your home.
Control Panel Features
Other notable features are related to its control panel. Useful aspects for monitoring are the indicator lights showing low oil and fuel levels. You can also make sure the engine runs more efficiently and quietly with a simple switch to the idle control program.
The two biggest spaces on the control panel are taken up by the volt meter and turning knob for the MX2 switch. Finally, there is an individual circuit breaker for each outlet and a DC protector for when you are charging a battery.
On the control panel you will also find 4 types of outlets; two GFCI 20 amp outlets, one 50 amp power outlet for heavy duty use, one 120 volt 30 amp twist lock and a changeable 120 volt/240 volt alternative. The choice of outlets makes this a very suitable choice for powering machinery and other heavy duty use.
The heavy duty purposes shine through in the design. The wheels are suitable for any type of terrain without the risk of punctures and the solid steel frame acts as a protective casing.
XP12000EH vs Other Models in the Same Series
Fuel Type
Dual Fuel (Gasoline or Propane)
Dual Fuel (Gasoline or Propane)
Dual Fuel (Gasoline or Propane)
Run Time Gasoline - 1/2 Load
Run Time Propane - 1/2 Load
Fuel Type
Dual Fuel (Gasoline or Propane)
Run Time Gasoline - 1/2 Load
Run Time Propane - 1/2 Load
Fuel Type
Dual Fuel (Gasoline or Propane)
Run Time Gasoline - 1/2 Load
Run Time Propane - 1/2 Load
In the same Duromax XP series you will find both higher capacity and lower capacity alternatives that are also dual fuel engines. There is the XP13000EH if you are looking for more power and the XP10000EH if you are looking to downsize.
Overall, the specs are quite similar with the main notable difference in the run time. Regardless of the fuel type, going up one power level gives you a shorter run time and downsizing gives you a longer run time with an impressive 10.4 hours on gasoline with the XP10000EH.
There is no distinction in the dimensions and all versions have the same weight. In other words, each one is just as portable as the other.
Duromax XP12000EH vs. Comparable High Capacity Portable Generators
Again, there are no extreme differences when looking at the same Duromax series but there are considerations when you start comparing to other manufacturers that also make dual fuel generators with a 12,000 watt capacity.
Examples of comparable models are the Pulsar G12KBN also with 12,000 watts power and the Ford FG11050PBE in the 11,000 watt category. Both products are dual fuel.
Both alternatives are more energy efficient with the Pulsar capable of running up to 12 hours on a half load and the Ford model up to 10 hours. Considering their gasoline fuel tank sizes are 8 gallons and gallons respectively, they are more energy-efficient than the Duromax.
All models give you the choice between using the manual recoil system or the simpler electric start making each one just as user-friendly. All models are also made with a heavy-duty purpose in mind but perhaps the Duromax frame and wheels are the sturdiest of the bunch.
Another difference is that both the Ford and Pulsar have a different outlet combination than the Duromax. Both competitor products feature four 120 volt 20 amp outlets, one 30 amp twist lock and a heavy-duty 50 amp outlet, as well.
Overall, the closest competitor is the Pulsar which also sells just below the $1000 mark. Do consider that Pulsar is not as established as Duromax so you might want to consider what you are buying into when you choose the budget option.
Advantages and Disadvantages
Advantages

Clearly, the biggest advantage of this choice is that Duromax offers dual fuel capabilities. Not only can this work out to be a more wallet-friendly option in terms of running costs, it also gives you extended run time with a simple switch to the other fuel.

Another advantage is the sturdy design that uses high quality materials. The combination of steel and heavy duty wheels in a cart design make this a great choice for construction workers.

An unexpected plus with this powerful generator is the noise level. 74 decibels may not be so quiet that you won't notice it but there are much generators with a much smaller capacity that have the same noise level if not worse.
Disadvantages

Common complaints regarding the XP12000EH are related to shipping and customer service. Although Duromax promises a 3-year warranty, you need to be careful with how the mishap falls within this warranty.

Some of the negative comments are about the poor packaging and rough handling. When you are purchasing such an expensive piece of equipment you would want it to be treated with proper care and shipped safely.

Because of how it is shipped, some users notice problems right from the first try. Technically, this should be resolved by contacting the customer service but many reviewers comment on how difficult it is to deal with the service desk.

Besides that, it seems as though the wheels are not as dependable as hoped. From customer reviews, the wheels are the most commonly mentioned fault in the product.
Conclusion
Carrying 'The Beast' as its nickname, this portable hybrid generator creates a lot of expectation for its power, run time and rugged design. It delivers in some ways, specifically the use of materials, but there are more intense models out there that better suit the nickname.
On the other hand, once you ignore the suggestive label, this is an impressive portable generator. It holds enough power to run your household as normal as possible during extreme weather and it is made of high quality materials which make it a dependable machine.
The biggest selling point is still that it can run on two types of fuel which is definitely worth the extra 100 bucks over the basic mono fuel model. Dual fuel generators give you a longer run time which is great for households stuck in hurricanes.
Overall, the Duromax XP12000EH is a great choice if you are looking for a dual fuel model for household use. Though there are customer complaints related to the wheels and shipping, there is not an alarming number of negative reviews related to the actual functioning.
This suggests that this is a reliable product that will see you through the power outage, even if it lasts several days. Make use of its versatility by actively using both the gasoline and LPG mode for powering your household appliances.
Sale
DuroMax XP12000EH Generator-12000 Watt Gas or Propane Powered Home Back Up & RV Ready, 50 State...
Powerful DuroMax Engine: the XP12000EH is powered by a DuroMax, 457cc OHV engine.With Gasoline : Peak Wattage - 12,000.,...
Dual fuel technology: the ability to run on propane or gasoline allows the freedom and flexibility of fuel choice....
Plenty of power: with 12,000 starting watts and 9, 500 running watts, This unit can handle heavy loads from lights and a...
Maximum power: with DuroMax MX2 technology, get the maximum power from each of the 120 volt receptacle. Choose between...
Last update on 2023-11-28 / Affiliate links / Images from Amazon Product Advertising API